Zombie Sex Up The Butt
Poor girl, she's been grabbed by the hair by a scary festering zombie guy. And what does he do first? After giving her a good look at the warts and sores and exploding sores on his grungy dick, he shoves it right smartly up her quivering ass as she screams in protest: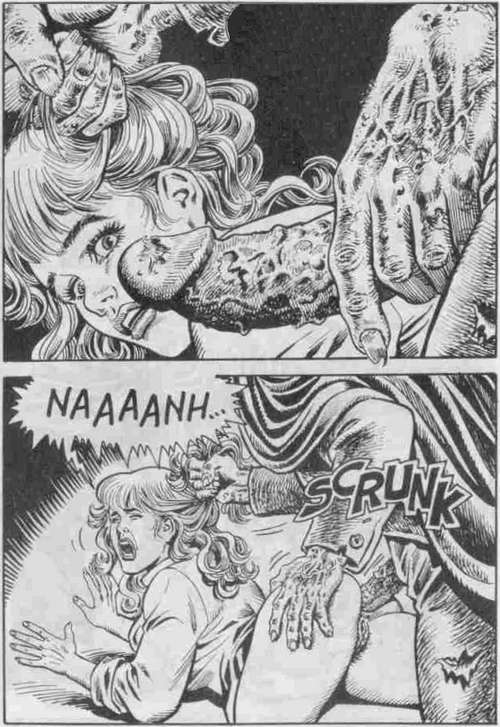 Now we see the extreme closeup of her stretched rosebud, as our hooded zombie monster-guy gets his lumpy cock shoved balls-deep in her anus and starts ramming away. She still doesn't look happy, and can you blame her?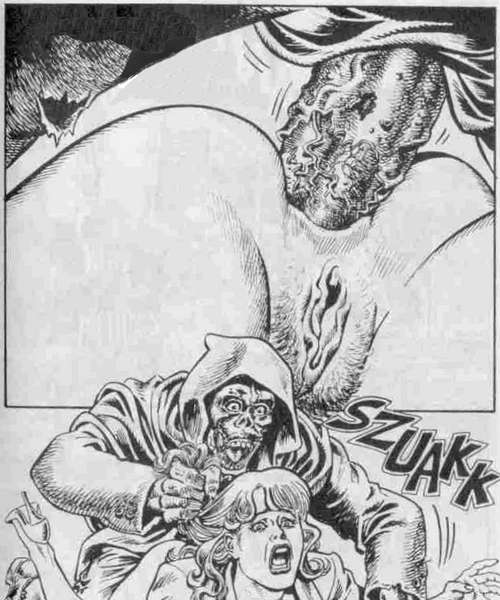 Want more? Click here for a zombie orgy.
Sex slave Blog Posts:
From
Bondage Blog
: "Tied down like that on an old wooden trestle table, you'd expect this slave girl to be in trouble, and you'd be right. Now she's yelling; I guess that leather belt he's using hurts a bit. Good thing she's held firmly in place, eh?" (
More...
)
From
Bondage Blog
: "Not another porno caged blowjob picture, no, rather a description of the real thing: So I crawled across the floor, stripped and put my clothes away and crawled back to him. He opened the cage in the time it took me. "Kneel up." He placed the steel collar around my throat and locked it, then directed me into the cage. Then he padlocked it shut. He allowed me to suck his cock through the bars, then went to shower. He returned to check on me, and offered me his cock to suck again. Greedy and hungry with lust I fell on it starved. The cage does that to me even if nothing else does." (
More...
)
From
ErosBlog: The Sex Blog
: "This foot-jammed-in-her-mouth
forced toe sucking
for a bondage slavegirl is a little bit to the gonzo side of the usual ErosBlog fare, but as you know I can never resist a complicated facial expression. Via
Kinky Delight
, which has been on a slave-sex foot-fetish roll lately. (Did you miss the
vintage magazine cover
with the lesbian slavegirl forced to lick stinky feet in nylons?" (
More...
)
Buy Sex slave gear from Adult Empire:
Leather Bondage Mittens:
These high quality bondage mitts are wonderful at containing busy hands and fingers. Made of fine garment leather over soft padding, each padded mitten has a large D-ring on a heavy leather buckle strap for cinching down on the wrist and attaching to multiple points for varied bondage possibilities...
Deluxe Ball Gag:
The deluxe ball gag with o-rings is a simple, highly functional bondage ball gag. The black, non-toxic, rubber ball is flanked by soft, comfortable latigo leather bondage straps. The steel o-rings between the straps and the ball of the gag add flexibility around the ball, and multiple sizing notches allow a nice firm fit.