Zombie Sex Up The Butt
Poor girl, she's been grabbed by the hair by a scary festering zombie guy. And what does he do first? After giving her a good look at the warts and sores and exploding sores on his grungy dick, he shoves it right smartly up her quivering ass as she screams in protest: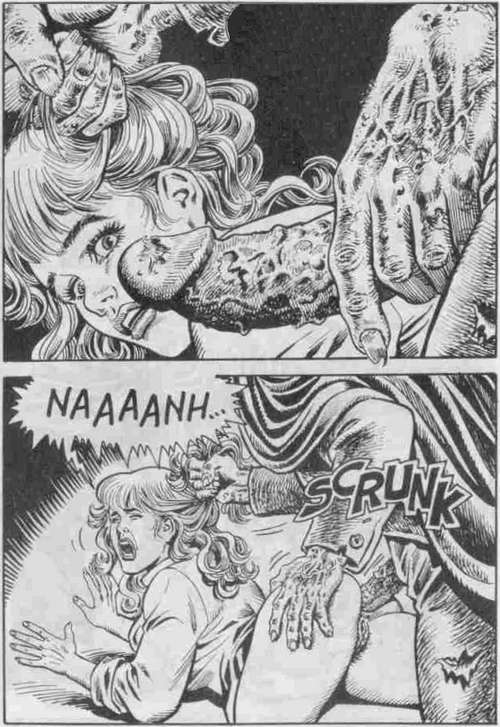 Now we see the extreme closeup of her stretched rosebud, as our hooded zombie monster-guy gets his lumpy cock shoved balls-deep in her anus and starts ramming away. She still doesn't look happy, and can you blame her?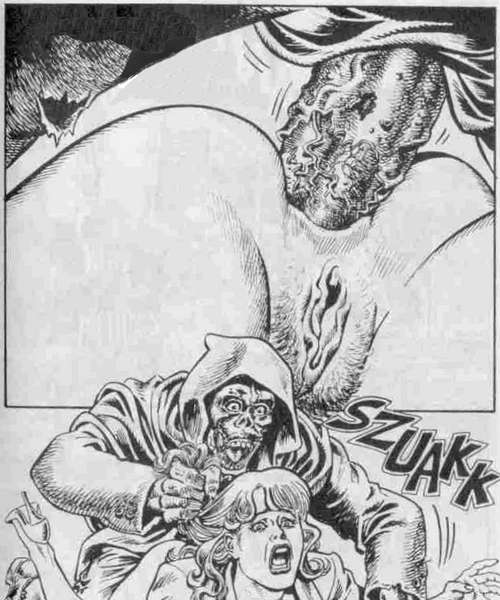 Want more? Click here for a zombie orgy.
Sex slave Blog Posts:
From
Bondage Blog
: "In 1805, when Lewis And Clark left the Missouri country en route to the Columbia, they took with them a slave woman, the 'wife' of a French voyageur who had originally purchased her from the Hidatsa Indians. You've heard of this slave wife; her name was Sacajawea. Ultimately she proved very useful to the expedition, helping it secure horses from the Shoshone. But in a different universe, Lewis and Clark would have had their own slave wives, and maybe they didn't ever get the horses they needed. So they would have had to put the women to work, fitting them with bits and harnesses and stout shoes and decorative horse-tail butt plugs." (
More...
)
From
Bondage Blog
: "Lives there a man who could refuse this kind of request? Naw, I didn't think so: "Honey?" I whispered as he rubbed some spit on his throbbing erection. He smiled. "Yes, baby?" I took a deep breath and sighed. I hoped my request wouldn't come out wrong. I lowered my eyes and softly spoke. "I've been fantasizing about you um... tying me up and you know, taking control of me." He grabbed two silk ties that were nearby and swiftly turned me on my side. My breath quickened as he bound my ankles together without hesitation. My wrists were next, and he tied them just tightly enough to ensure I couldn't get free without a stuggle." (
More...
)
From
Bondage Blog
: "This is not Philip typing. Philip is whispering in my ear as I type. I'm lying on my stomach with a pair of thumb cuffs on. Philip has just removed my panties. Now Philip is reaching his hand up between my legs. Philip has warned me not to make any typing mistakes, or he will squeeze my right nipple. I'm having some difficulty typing because I'm horny and cuffed. I have made many silly typographical errors. Now his cock is up against my pussy. The head of Philip's acock is pressing against my cuynt. I'm a very abasd sexcre..." (
More...
)
Tall Curved Posture Collar
:
This tall curved costure collar (available in black or white) makes slouching impossible. The curve provides some room for the wearer's jawline, as opposed to the straight edge collars which compel the wearer to keep her chin up and head back. Strict bondage if worn for very long! Closes with locking buckle... (
More...
)
Straight Rattan Cane
:
This rattan cane is great for serious slave punishment. Brisk ass caning delivers perfect stripes, vivid welts, and blazing sore butts with a minimum of domly effort. When you want your sex slave to tremble, threaten a harsh caning! Rattan is like bamboo, only more flexible. The handle is covered in suede leather... (
More...
)