Zombie Sex Up The Butt
Poor girl, she's been grabbed by the hair by a scary festering zombie guy. And what does he do first? After giving her a good look at the warts and sores and exploding sores on his grungy dick, he shoves it right smartly up her quivering ass as she screams in protest: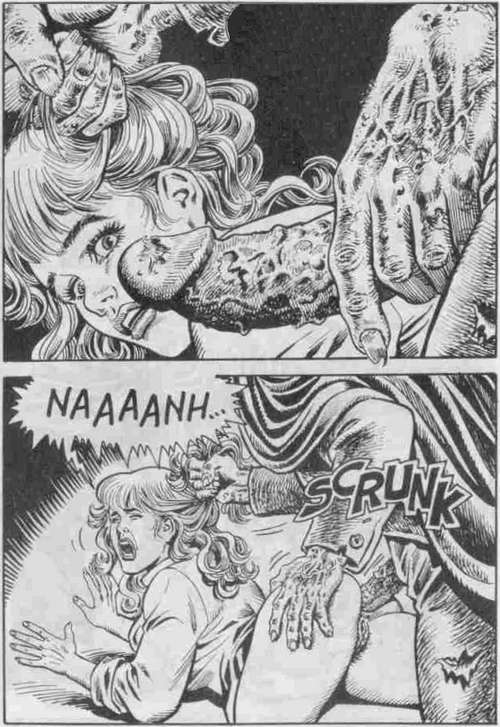 Now we see the extreme closeup of her stretched rosebud, as our hooded zombie monster-guy gets his lumpy cock shoved balls-deep in her anus and starts ramming away. She still doesn't look happy, and can you blame her?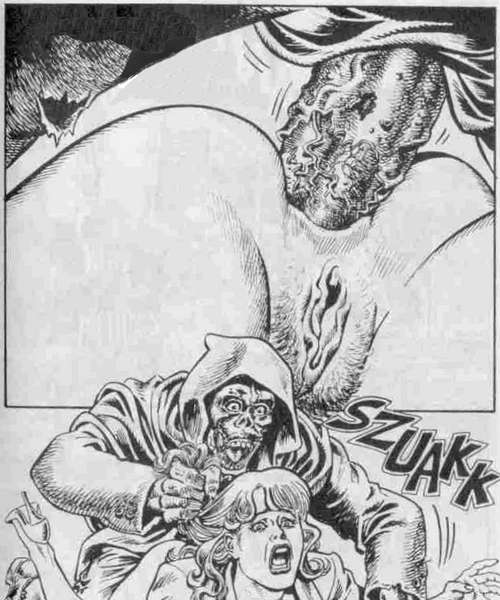 Want more? Click here for a zombie orgy.
Sex slave Blog Posts:
From
Spanking Blog
: "We read in the histories of those terrible Vikings, whose plundering always included (at least in the fevered imaginings of the pious monks who recorded the histories) the carrying-off of nubile farm wenches as slavegirls, with whips and chains and much outrage..." (
More...
)
From
Bondage Blog
: "This is not Philip typing. Philip is whispering in my ear as I type. Iím lying on my stomach with a pair of thumb cuffs on. Philip has just removed my panties. Now Philip is reaching his hand up between my legs. Philip has warned me not to make any typing mistakes, or he will squeeze my right nipple. Iím having some difficulty typing because Iím horny and cuffed. I have made many silly typographical errors. Now his cock is up against my pussy. The head of Philipís acock is pressing against my cuynt. Iím a very abasd sexcre..." (
More...
)
From
Bondage Blog
: "Doesnít Victoria Vonn have those classic corn-fed all-American girl-next-door good looks? Itís a pity (for her) that sheís being kept, chained to a radiator, on her knees in a dim room, as a blowjob slave. Her cruel captors have teased her by leaving the keys in sight but hopelessly out of reach. Sorry, girlie, but youíre never going to get them! Youíre staying right there until it's
blowjob time
." (
More...
)
Leather "BJ" Knee Pads
:
These deluxe leather knee pads are the perfect functional accessory for slaves who spend a lot of time on their knees trying to get caught up on their rigorous blowjob quotas. The kneepads are made of durable black leather. These pads are tough enough to last for a lifetime... (
More...
)
Straight Rattan Cane
:
This rattan cane is great for serious slave punishment. Brisk ass caning delivers perfect stripes, vivid welts, and blazing sore butts with a minimum of domly effort. When you want your sex slave to tremble, threaten a harsh caning! Rattan is like bamboo, only more flexible. The handle is covered in suede leather... (
More...
)