Zombie Sex Up The Butt
Poor girl, she's been grabbed by the hair by a scary festering zombie guy. And what does he do first? After giving her a good look at the warts and sores and exploding sores on his grungy dick, he shoves it right smartly up her quivering ass as she screams in protest: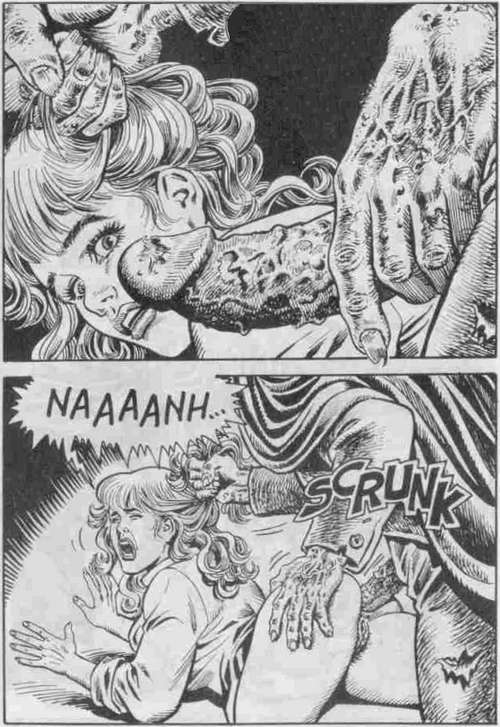 Now we see the extreme closeup of her stretched rosebud, as our hooded zombie monster-guy gets his lumpy cock shoved balls-deep in her anus and starts ramming away. She still doesn't look happy, and can you blame her?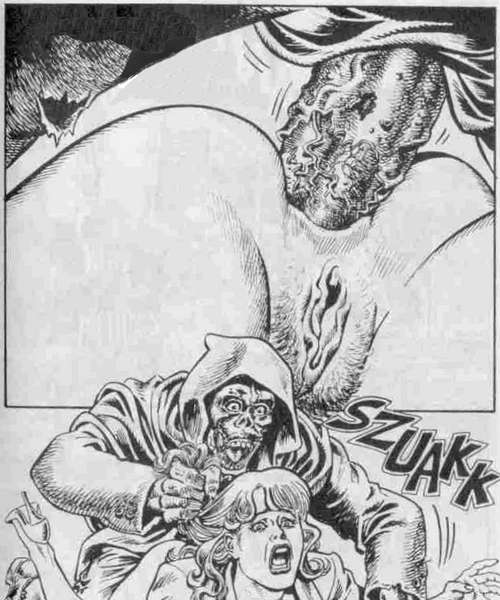 Want more? Click here for a zombie orgy.
Sex slave Blog Posts:
From
Bondage Blog
: "I am
really
amused by
this gallery
at
Nude Traffic
featuring Molly Pony being forced to squeegee car windows while wearing handcuffs and minimal clothing. And when she doesn't make enough tips at topless window washing to satisfy her squeegee pimp, there's
another gallery
where he sends her back out completely naked." (
More...
)
From
Bondage Blog
: "Tied down like that on an old wooden trestle table, you'd expect this slave girl to be in trouble, and you'd be right. Now she's yelling; I guess that leather belt he's using hurts a bit. Good thing she's held firmly in place, eh?" (
More...
)
From
Bondage Blog
: "There's a new site called Sex And Submission, from the same folks who revolutionized commercial bondage photography at Hogtied.com. In addition to the strict bondage you've come to expect, you now get some light-but-authentic bondage sex (mostly oral). You bondage fiends know how rare that is! it's nice to see real tight ship-shape bondage and sex slaves in vulnerable postures of submission while having some hope that you'll actually get to see the helpless bondage blowjob that everybody knows is coming. It's always been puzzling that we combine bondage and sex in the bedroom, but we can't get them combined much in our porn. Sex And Submission is the start of a new trend..." (
More...
)
Tulip Anal Plug
:
Made with more advanced players in mind, this gracefully designed anal plug features a rounded tip for effortless penetration of your ass slave. The yielding tulip shape fans wide, then slims to a narrow column for an secure fit. The wide base provides improved manipulation and a helpful safeguard too. We like it. A lot. (
More...
)
Heavy Wooden Paddle
:
This thick wooden paddle is 3" wide on the business end. Similar in shape to a fraternity paddle, these paddles are great for no-nonsense slave discipline and punishment. Made of very strong 7-ply birch plywood... (
More...
)