Zombie Sex Up The Butt
Poor girl, she's been grabbed by the hair by a scary festering zombie guy. And what does he do first? After giving her a good look at the warts and sores and exploding sores on his grungy dick, he shoves it right smartly up her quivering ass as she screams in protest: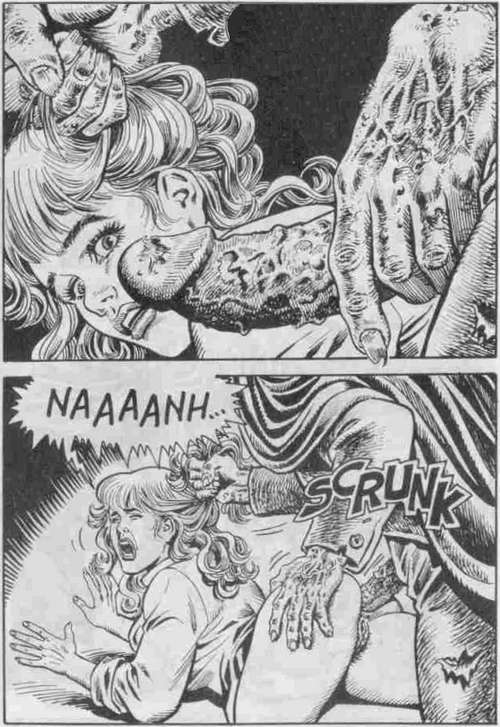 Now we see the extreme closeup of her stretched rosebud, as our hooded zombie monster-guy gets his lumpy cock shoved balls-deep in her anus and starts ramming away. She still doesn't look happy, and can you blame her?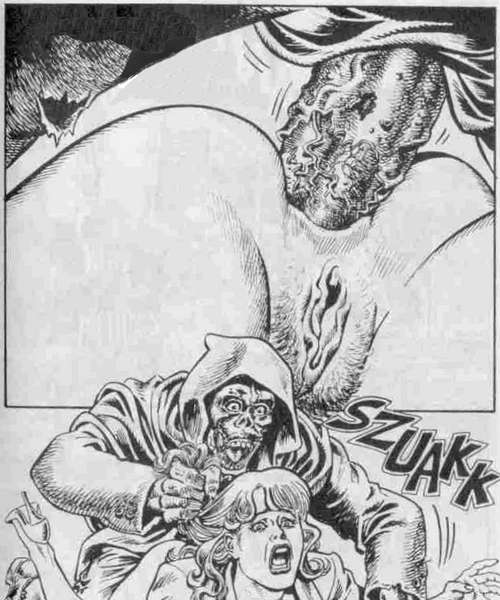 Want more? Click here for a zombie orgy.
Sex slave Blog Posts:
From
Bondage Blog
: "Not another porno caged blowjob picture, no, rather a description of the real thing: So I crawled across the floor, stripped and put my clothes away and crawled back to him. He opened the cage in the time it took me. "Kneel up." He placed the steel collar around my throat and locked it, then directed me into the cage. Then he padlocked it shut. He allowed me to suck his cock through the bars, then went to shower. He returned to check on me, and offered me his cock to suck again. Greedy and hungry with lust I fell on it starved. The cage does that to me even if nothing else does." (
More...
)
From
Bondage Blog
: "I think wooden stocks, even simple portable ones like this pretty Pain Toy model is getting spanked in, would be a fun addition to the slave discipline equipment. And from the look on this girl's face, she needs something to keep her from putting her hands behind her..." (
More...
)
From
figging.com
: "I just found another gallery in the same series as the one in
this post
, that has an even more explicit photo of a well-spanked slavegirl having a ginger fig inserted in her bottom. Check it out!
Spanking And Figging gallery
." (
More...
)
Straight Rattan Cane
:
This rattan cane is great for serious slave punishment. Brisk ass caning delivers perfect stripes, vivid welts, and blazing sore butts with a minimum of domly effort. When you want your sex slave to tremble, threaten a harsh caning! Rattan is like bamboo, only more flexible. The handle is covered in suede leather... (
More...
)
Tall Curved Posture Collar
:
This tall curved costure collar (available in black or white) makes slouching impossible. The curve provides some room for the wearer's jawline, as opposed to the straight edge collars which compel the wearer to keep her chin up and head back. Strict bondage if worn for very long! Closes with locking buckle... (
More...
)