Zombie Sex Up The Butt
Poor girl, she's been grabbed by the hair by a scary festering zombie guy. And what does he do first? After giving her a good look at the warts and sores and exploding sores on his grungy dick, he shoves it right smartly up her quivering ass as she screams in protest: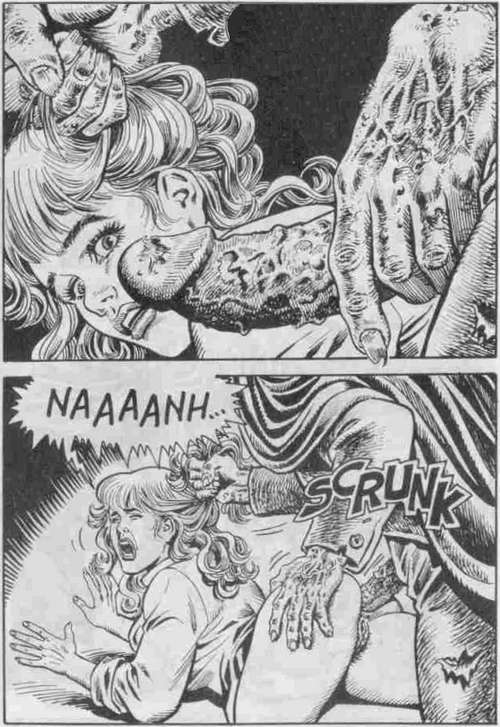 Now we see the extreme closeup of her stretched rosebud, as our hooded zombie monster-guy gets his lumpy cock shoved balls-deep in her anus and starts ramming away. She still doesn't look happy, and can you blame her?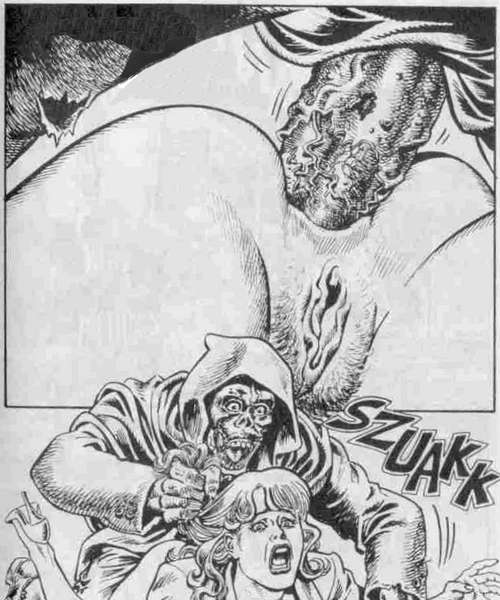 Want more? Click here for a zombie orgy.
Sex slave Blog Posts:
From
Spanking Blog
: "We read in the histories of those terrible Vikings, whose plundering always included (at least in the fevered imaginings of the pious monks who recorded the histories) the carrying-off of nubile farm wenches as slavegirls, with whips and chains and much outrage..." (
More...
)
From
Bondage Blog
: "one of the best uses of bondage is to allow me to concentrate on what Iím doing, without undue interruptions. I want my fingers in her, but my hands are busy holding her down. I release her, and open a drawer. I pull out handcuffs. I toss a pillow near her hips, and lift her ass onto it. I cuff her wrists behind her back. Now I can work on her pussy. I pull her lips back to expose her clit. It is a juicy round pearl, full and extending from its hood. I put the tip of my tongue on it, isolating it in her sensations. She moves in response. I lap at it. She squirms, pants a little. I slip a finger into her. And another." (
More...
)
From
Spanking Blog
: "Here we see a slave girl in trouble, getting a little corner time before her caning. Just enough to make her anxious, while he gets out his canes..." (
More...
)
Single Tail Whip
:
This high-quality single-tail whip is made of finely braided black leather with a black nylon tassel at the end. The gold standard for punishing your wayward sex slave! This supple, well-crafted, precision instrument will provide endless fun for you and limitless pain and pleasure for your punished slaves... (
More...
)
Leather "BJ" Knee Pads
:
These deluxe leather knee pads are the perfect functional accessory for slaves who spend a lot of time on their knees trying to get caught up on their rigorous blowjob quotas. The kneepads are made of durable black leather. These pads are tough enough to last for a lifetime... (
More...
)