Zombie Sex Up The Butt
Poor girl, she's been grabbed by the hair by a scary festering zombie guy. And what does he do first? After giving her a good look at the warts and sores and exploding sores on his grungy dick, he shoves it right smartly up her quivering ass as she screams in protest: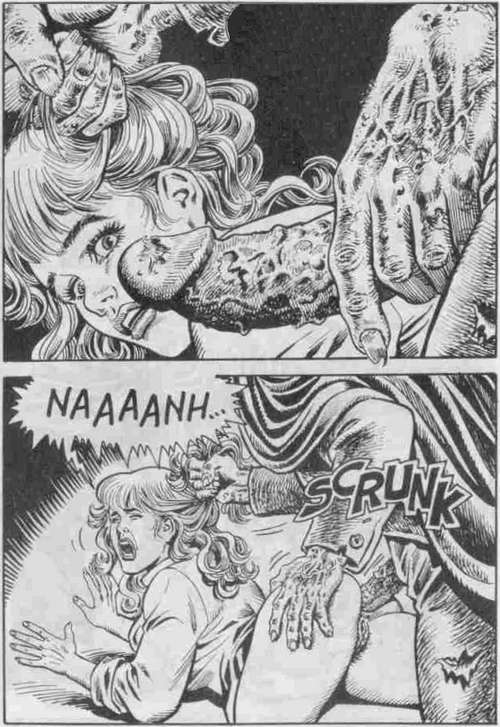 Now we see the extreme closeup of her stretched rosebud, as our hooded zombie monster-guy gets his lumpy cock shoved balls-deep in her anus and starts ramming away. She still doesn't look happy, and can you blame her?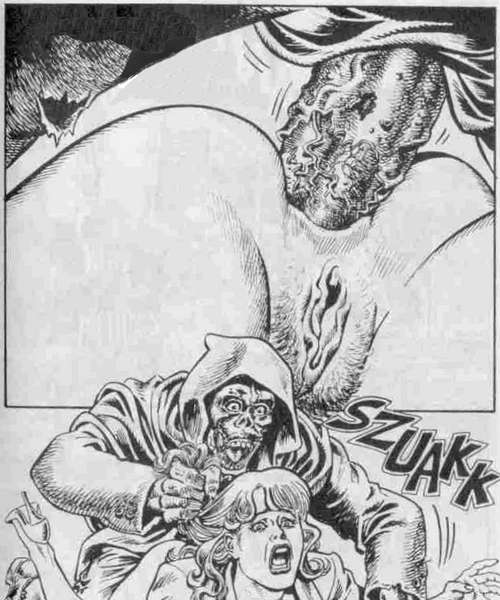 Want more? Click here for a zombie orgy.
Sex slave Blog Posts:
From
Bondage Blog
: "In 1805, when Lewis And Clark left the Missouri country en route to the Columbia, they took with them a slave woman, the 'wife' of a French voyageur who had originally purchased her from the Hidatsa Indians. You've heard of this slave wife; her name was Sacajawea. Ultimately she proved very useful to the expedition, helping it secure horses from the Shoshone. But in a different universe, Lewis and Clark would have had their own slave wives, and maybe they didn't ever get the horses they needed. So they would have had to put the women to work, fitting them with bits and harnesses and stout shoes and decorative horse-tail butt plugs." (
More...
)
From
Spanking Blog
: "Have you got a slave girl who's sullen about her corner time? Or worse yet, stubborn? No matter how many times you spank her, she's back out of the corner in fourteen seconds flat, wheedling for a cushion or some lotion or whatever it is that bad girls think they should have while they kneel in the corner to contemplate their misdeeds?" (
More...
)
From
Bondage Blog
: "I have been publishing this bondage blog since 2003, but somehow the finer points of kinky etiquette have passed me by. For instance, if you rent a sexual slave by the hour, obviously you keep her well tied, obviously you pay her owner, and obviously you use her thoroughly and in every available sexual orifice, starting with her mouth and leaving no hole -- especially not her asshole -- unfucked. The part I did NOT know was that, judging from these pictures, you are apparently also supposed to leave her with a generous one-dollar tip (which, adding insult to insult, she will certainly not be allowed to keep or spend)." (
More...
)
Metal Anklet with Slave Bells
:
With a row of tiny, silver slave bells attached to a silver chain by little O-rings, this elegant and sexy anklet is worn low on the ankle, adding a dazzling highlight to any slavegirl's foot. It has a small hook and O-ring clasp. (
More...
)
Leather "BJ" Knee Pads
:
These deluxe leather knee pads are the perfect functional accessory for slaves who spend a lot of time on their knees trying to get caught up on their rigorous blowjob quotas. The kneepads are made of durable black leather. These pads are tough enough to last for a lifetime... (
More...
)