Zombie Sex Up The Butt
Poor girl, she's been grabbed by the hair by a scary festering zombie guy. And what does he do first? After giving her a good look at the warts and sores and exploding sores on his grungy dick, he shoves it right smartly up her quivering ass as she screams in protest: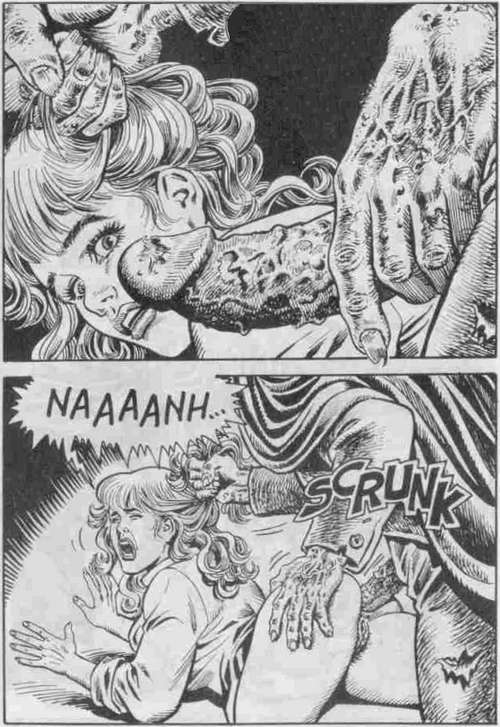 Now we see the extreme closeup of her stretched rosebud, as our hooded zombie monster-guy gets his lumpy cock shoved balls-deep in her anus and starts ramming away. She still doesn't look happy, and can you blame her?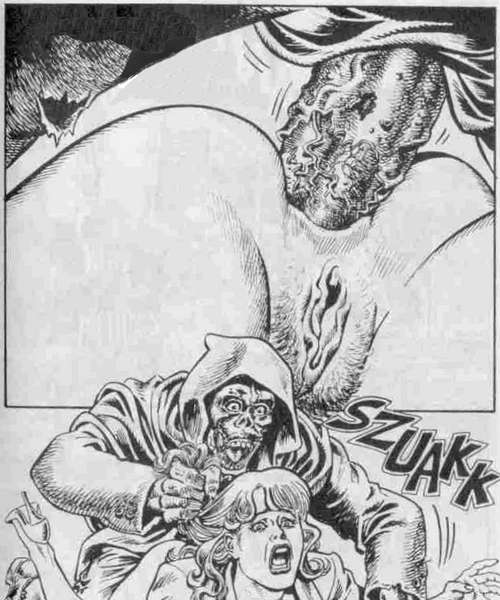 Want more? Click here for a zombie orgy.
Sex slave Blog Posts:
From
ErosBlog: The Sex Blog
: "How about the notoriously severe spanking and caning DVDs produced by Lupus Pictures? What right-thinking innocent girl would voluntarily consent to an ass-whipping that leaves her in tears with flaming red welts on her bottom?" (
More...
)
From
Bondage Blog
: "I'm still having fun with the new
3D Kink
game. As you play, you earn coins you can use to buy more toys for your virtual sexslaves. An early and essential Bondage Blog upgrade was a ring gag, of course. There's also a bukkake tool and a sponge for cleanup (which I naturally did not use before taking this screenshot). Now, all I'm missing is
this shirt
. Swallow or it's going in your eye, slut!" (
More...
)
From
Bondage Blog
: "Tied down like that on an old wooden trestle table, you'd expect this slave girl to be in trouble, and you'd be right. Now she's yelling; I guess that leather belt he's using hurts a bit. Good thing she's held firmly in place, eh?" (
More...
)
Straight Rattan Cane
:
This rattan cane is great for serious slave punishment. Brisk ass caning delivers perfect stripes, vivid welts, and blazing sore butts with a minimum of domly effort. When you want your sex slave to tremble, threaten a harsh caning! Rattan is like bamboo, only more flexible. The handle is covered in suede leather... (
More...
)
Leather "BJ" Knee Pads
:
These deluxe leather knee pads are the perfect functional accessory for slaves who spend a lot of time on their knees trying to get caught up on their rigorous blowjob quotas. The kneepads are made of durable black leather. These pads are tough enough to last for a lifetime... (
More...
)